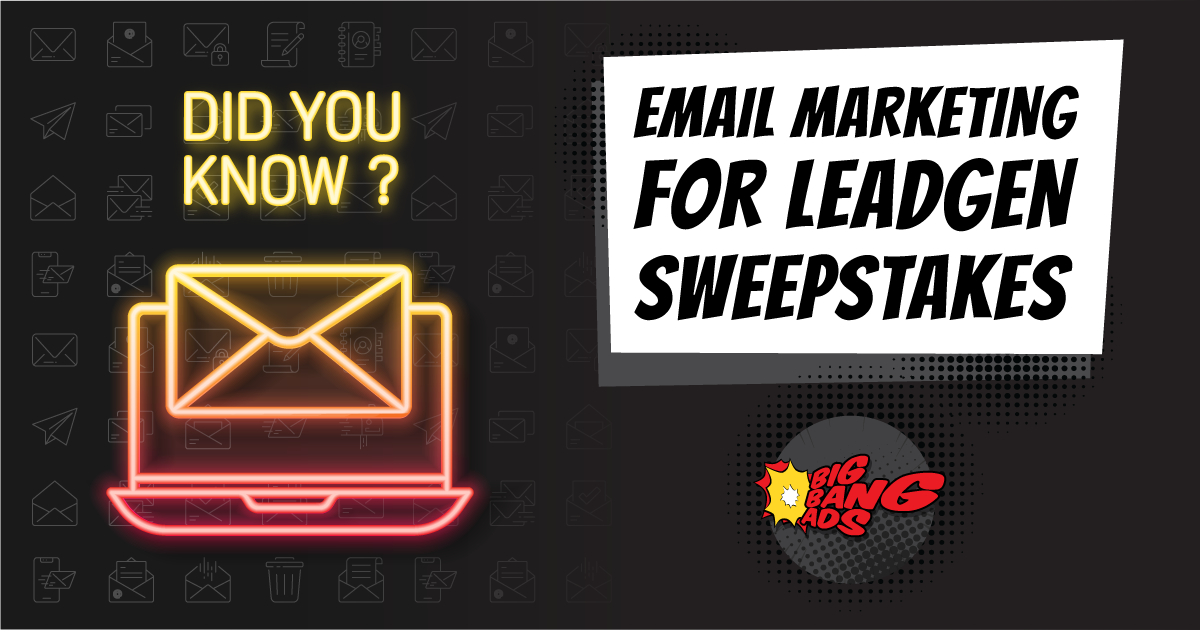 About Email Marketing:
3 Most Frequently Asked Questions
answered by Big Bang Ads, affiliate Network
Many of you asked: "Why do you use EDM for lead generation sweepstakes?"
We take this opportunity to share why this is a viable channel for us at Big Bang Ads, and soon it can be for you, too.
We have answered the 3 most common questions about Email marketing in relationship with the lead generation and sweepstakes SOI offers.
Email marketing means for us:
A perfect additional alternative to social media (FB, Native, push, DSPs…), as you gain power over algorithm changes, shutdowns, or popularity decline of the social media sites.

Easy to adapt to markets and users' needs, making communication more personal and customizable.

We land directly in the users personal inbox, cutting intermediaries.
1. Which are the TOP 3 GEOs & TOP 3 OFFERS for EDM on Big Bang Ads?
Our winners worldwide are still: voucher cards for food supply and supermarkets, DIY, Tech and fashion.
Belgium, Spain and the United Kingdom have still the highest segment of leads generated via email marketing in Europe. For the Asia Pacific region, Australia, New Zealand and Singapore get great results from EDM traffic with some of the best conversion rates in the industry. Most successful prizes: Electronics & Entertainment together with supermarket vouchers.
Constantly optimized flows and landers, or customized advertising materials still catch the attention of our publisher.
Partners make stable profits with us in more than 20 goes!
2. Why should you try Big Bang Ads offers on your mailing DB?
We provide the best converting flows and we tailor them to different audiences
We provide materials, such as standalone newsletter templates with tried-and-trued sizes, sender names, and subject lines
If you already have a list and send content to your audience regularly, you can also include affiliate links to our offers.
Important point: Ensure you have the consent and opt-in to email to these databases!
3. How to run sweepstakes Big Bang Ads SOI offers with email marketing?
Sign up to Big Bang Ads here, for your publisher account, or log in and sneak a peek into our "weekly top offers".
Search for the geos you are interested in promoting and request your advertising kit!
Reach out to the "Big Bang Ads Team" to get the promotional material. Now you are ready to send to your audience. Run our offers & test!
Are you sick of numbers? Don't worry! We will be happy to analyze numbers with you, average open rates, click rates, and conversion patterns.
Contact us now – we are your contact persons: