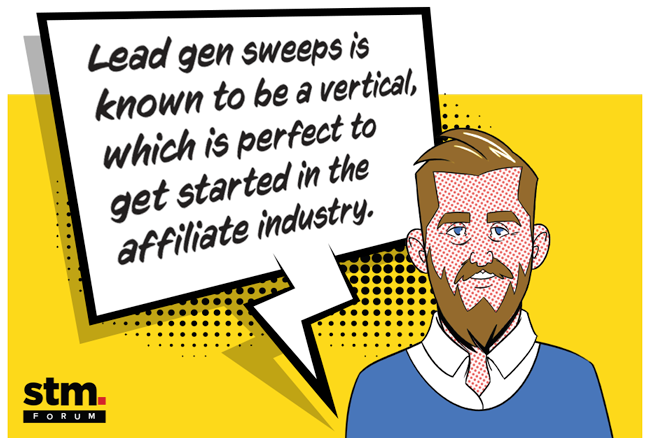 For all STM- Forum readers, Vincent speaks about the best way for a beginner to start (flows, geos and so on) and … "What´s next, how shall he continue?"
The first interview in 2021 in the AM Insights Series on the STM Forum is for Big Bang Ads.
Big Bang Ads, the top Advertiser for Lead Gen sweepstakes here seen from Vincent Jouvin, business development chéz Big Bang Ads.
Vincent provides an overview of the platform Big Bang Ads and analysed a company, created in 2001, grown in more than 25 geos in the Asia Pacific, Europe, South America and is an advertiser of his own Lead generation single-opt-in offers.
LEAD GEN, SINGLE-opt-in FLOWS & PUSH TRAFFIC: 3 of the magic words – here for more insights.
Vincent contributed with STM-Forum to the very detailed SWEEPSTAKE GUIDE for all Lead generation addicted.
Thanks to: STM-Forum
Industry specialists Vincent Jouvin (Big Bang Ads) and Alex Om (Adplexity) discuss affiliation marketing, lead generation sweepstakes & Ad Intelligence tool. Best-practice samples and case histories to build something you can be proud of.
Thanks to: Alex Omelianovych, Chief Marketing Officer – AdPlexity
Live Interview with Vincent from Big Bang Ads
Affiliate World Europe 2019
Vincent Jouvin, the business developer at Big Bang Ads Germany, issued an interview with Colin Dijs at Barcelona Affiliate World.
His experience in the backstage of the Big Bang Ads Network, from its launch until today demonstrates how every affiliate is appreciated for his own identity, commitment and performance, which reflects also the global character of the network in the Lead generation landscape. Vincent is the face of the Big Bang Ads in the Lead Generation worldwide industry summits and conferences.
Live Interview with Justine from Big Bang Ads:
Affiliate World Europe AWE 2019
An exclusive interview with Justine Valeri at Barcelona Affiliate World 2019, by Colin Dijs.
Justine has moved her desk (….again!!) from Frankfurt am Main, Europe Office – to Singapore's Big Bang Ads office. Originally from France, a few years' of dedicated experience helped her to gain faithful affiliates on the network.
Girl power for the Big Bang Ads – Child of the Lead Generation world!
Egentic Big Bang Ads Affiliate CPA Network [Tutorial]
Want to know more about Big Bang Ads? In this video, you will get an inside look inside the Big Bang Ads CPA Network. You will also find the answers to the most frequently asked questions about this affiliate network.
Thanks to Colin Dijs